ANIMAL KINGDOM
(2008 chestnut colt, Leroidesanimaux (Brz) - Dalicia (Ger), by Acatenango (Ger))

Eclipse Award - Champion Colt at 3




| | |
| --- | --- |
| Won | Dubai World Cup-Grade 1 |
| Won | Kentucky Derby-Grade 1 |
| Won | Spiral S.-Grade 3 |
| 2nd | Preakness S.-Grade 1 |


Animal Kingdom is a fully realized Team Valor International product as designed by Barry Irwin, who was involved in acquisition of both the sire and the dam, as well as the mating that produced the offspring that would become the Champion of his generation at 3 after a victory in the 2011 Kentucky Derby.
Leroidesanimaux was bought during his racing season by Barry Irwin for Stonewall Farm near Midway, Kentucky. Racing for Stonewall and previous owner/breeder Goncalo Torrealba, the Brazilian import was voted Champion Turf Horse at season's end, proving best over a mile for trainer Bobby Frankel and was retired the next season to stand in the bluegrass.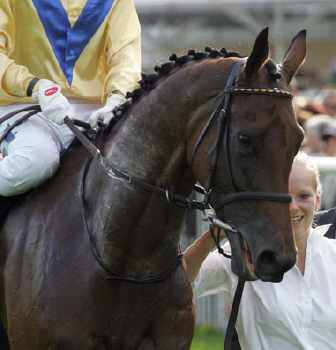 Dalicia (Ger)
Dalicia was purchased by Barry Irwin when she set a record price for a German filly or mare bought at public auction on a final bid of 400,000 euro. She had won a Group 3 stakes going a mile and a quarter at Baden-Baden, taking a notable scalp in Soldier Hollow, who was Horse of the Year. She trained well, but was not successful in California for trainer Neil Drysdale.
A carefully planned mating between Dalicia and Kingmambo had to be scrapped when the stallion experienced back problems and was only in sporadic service in 2007. Irwin had to think on his feet and he opted for Leroidesanimaux, a choice his partners reluctantly accepted, as on paper the switch represented a formidable step down in quality from leading sire Kingmambo to the unproven stallion "Leroi."
Animal Kingdom was the first foal produced by Dalicia and he was from the second crop of foals sired by Leroidesanimaux.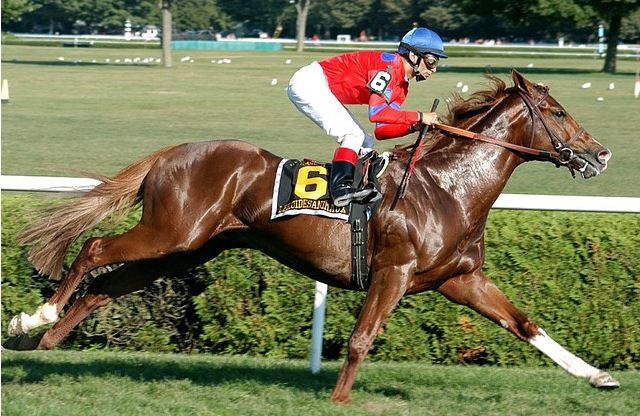 Leroidesanimaux (Brz)
In order to allow partners in the syndicate that owned Animal Kingdom to have the option of selling their interest in the chestnut colt, the Kentucky-bred was entered in the September Yearling Sale at Keeneland, where he was bought for $100,000 by Barry Irwin.
After the sale, Irwin gave partners the option of racing or selling. Some partners remained, while others opted out. Irwin named the colt Animal Kingdom and sent him to be broken near Ocala, Florida with Randy Bradshaw. The former D. Wayne Lukas assistant sent Animal Kingdom to Wayne Catalano at Arlington Park, where Irwin thought he would be effective racing and training on the Polytrack and turf.
Although standing well over 16 hands 1 inch and somewhat lean and backward, Animal Kingdom was ready for his racing debut on September 18. The race, originally scheduled for the grass, was instead run on Polytrack owing to a rain-softened grass course. As he was in 5 of his initial 9 races, Animal Kingdom was sent off favored. The gangly colt experienced some traffic troubles and came flying late to finish second, beaten just under 3 lengths. Willcox Inn, the winner, has gone on to a distinguished career, winning the American Derby, the Arlington Classic and the Hawthorne Derby.
Animal Kingdom broke his maiden 5 weeks later at Keeneland to win by more than 3 lengths over a mile and an eighth in the style of a Kentucky Derby prospect. Triple Crown watches involved him in the Derby conversation after only his second outing.
When Team Valor International decided to consolidate its training operation under the guidance of one trainer, namely Graham Motion, Barry Irwin sent Animal Kingdom back to Randy Bradshaw's barn at Adena Springs training center near Ocala, Florida, where the colt was allowed to relax for a month before returning to training.
The Animal Kingdom that showed up at Palm Meadows in 2011 was not the same one that had been sent to Ocala.
Barry Irwin said "The transformation was akin to that of the Incredible Hulk when he morphed into the monster he became. Animal Kingdom widened, lengthened, filled out and grew taller. He was a full time equine embodiment of the Incredible Hulk."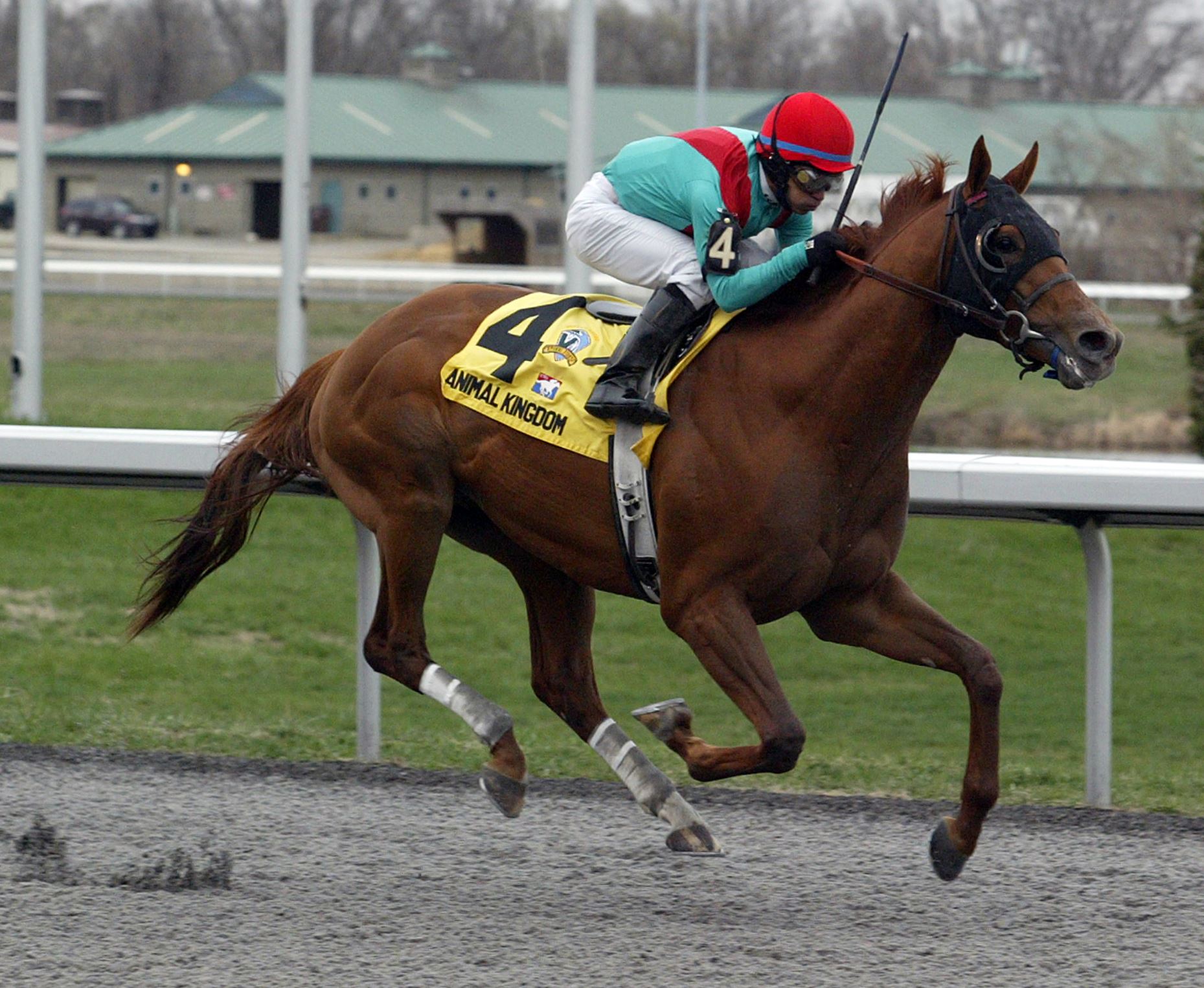 Animal Kingdom wins the Spiral
Animal Kingdom had a season at 3 that landed him an Eclipse Award, but he began modestly with a head defeat in an allowance race going a mile on grass at Gulfstream Park. Three weeks later he represented Team Valor in the $500,000, Grade 3 Spiral Stakes at Turfway Park, where he was only entered because another colt in the stable was unable to get into the body of the full field owing to a lack of earnings. The plan had been to run AK in the Rushaway Stakes on the Spiral undercard and use that Listed race as a prep for the Grade 1 Blue Grass Stakes at Keeneland.
Exhibiting significant improvement, Animal Kingdom showed strength, speed and talent to overcome tight quarters and fashion a 2 ¾-length victory, prompting his rider Alan Garcia to announce that wherever Animal Kingdom was going next, that's where he would be. But his agent had other plans and he jumped off AK to ride somebody else.
Graham Motion convinced Barry Irwin not to run Animal Kingdom back before the First Saturday in May, even though it would mean that a win would make him only the second horse since the 1950s to take the Kentucky Derby with that much time between races.
Irwin went along with the plan, but made a trade off, insisting that the colt's final workout not take place at Keeneland as Motion wanted, but at Churchill Downs, so that the Animal Kingdom could benefit from a breeze over the track and the connections could properly evaluate whether AK handled the dirt as well as he had the Polytrack.
Robbie Albarado, who had ridden AK to victory at 2 in Lexington the previous October, was aboard for the key workout, that turned out to be a real eye-opener, as Animal Kingdom relished the main dirt track under the Twin Spires.
Fate reared its ugly head again, however, when Albarado was kicked in the face by a horse and seemed in jeopardy of not being able to ride on Oaks or Derby Day. Irwin and Motion discussed the matter and decided that if Albarado rode on Friday on the Oaks card they would stick with him. But if he could not ride on Friday, they would secure the services of Johnny Velazquez. When Albarado opted not to compete on Friday, the mount went to JRV, who became available during the week when his mount, Kentucky Derby favorite Uncle Mo, defected.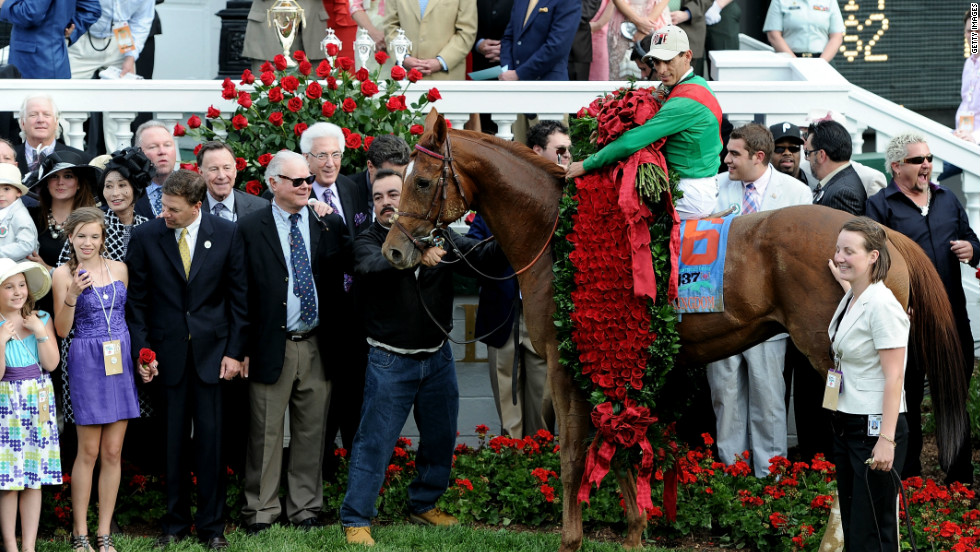 Animal Kingdom wins the Kentucky Derby
Animal Kingdom raced just behind the first flight going past the stands and into the first turn of the Kentucky Derby, for which he was dispatched at odds of nearly 21 to 1. He held a good position until approaching the final bend, when his rider instantly seized an opportunity to split horses and emerge as a possible upsetter as the field straightened out for the run to the wire.
After suddenly appearing from the pack and improving from 12th to 5th at the top of the stretch, Animal Kingdom was taken to the middle of the track by Velazquez, who turned his red colt loose. The race was over once AK hit his best stride and he drove to a powerful and convincing victory by the same 2 ¾-length margin as his Spiral score.
Animal Kingdom fashioned a bit of history the Kentucky Derby, most notably being the first horse to take the Classic in his first start on a dirt surface. He became the first horse to have as many as 6 weeks between races since Needles did it in 1956. And only one other horse in Derby history had won with as few as 4 previous starts.
Barry Irwin, who as one writer penned "had his hands all over this horse," said "What was most gratifying about the win is that it came without any of the other horses' connections offering an excuse. That doesn't happen very often in this game."
Animal Kingdom is a horse that embodies much of what symbolizes both Barry Irwin and his Team Valor International operation, in that he is a combination of bloodlines from all over the world. The horse was mated and bred by the operation. He was offered at public auction and bought by the principal of the operation. And he was trained under circumstances designed to produce a Classic winner.
Favored for the second leg of the Triple Crown, Animal Kingdom was inexplicably off very slowly in the Preakness, he was much farther back than in the Derby and he was slow to produce the same turn of foot. When he finally did get rolling, it simply was too late, as Shackleford had too much energy on the day and he was able to hold off the 5 to 2 favorite by a rapidly diminishing half-length in a game if dissatisfying effort.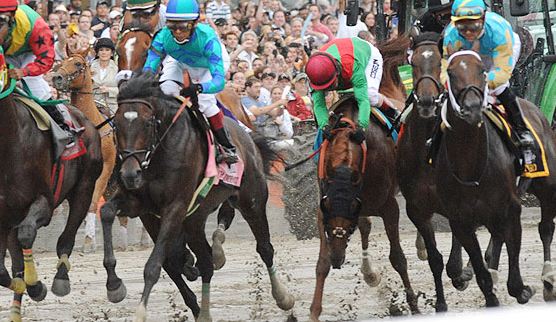 Disastrous start of the Belmont Stakes
Bettors once again made Animal Kingdom favored for a Triple Crown race, as he was 5 to 2 to win the Belmont Stakes, a race run over a mile and a half distance that was considered advantageous by his connections.
Fate once again showed it had little use for proper timing when Animal Kingdom became the meat in an equine sandwich, as he was slammed from both sides in a nasty and uncalled for incident in which Rajiv Maragh appeared to have intentionally angled his mount inward from an outside draw that caused a chain-reaction bumping accident that very nearly caused Animal Kingdom to fall down on the track.
Due to the sheer athleticism of both AK and JRV, each managed to stay upright. But the incident marred the event, in which Animal Kingdom tried his best to make a race of it after falling very far behind, and he returned with a cracked hock that required screws to repair it surgically. The jockey on the longshot culprit was suspended from riding for a week. Animal Kingdom missed the remainder of his season at three.
Animal Kingdom was unable to do anything to further a desire on the part of his connections to shore up his position as a candidate for an Eclipse Award, but all of his major competitors from the Classics helped him out by failing to win a race of any significance the rest of the season.
The lone threat to take away the title turned out to be an elongated sprinter named Caleb's Posse, who had a great campaign during the second half of the year, capped by victories in the Grade 1 King's Bishop Stakes and the Breeders' Cup Dirt Mile. In the end, however, Animal Kingdom won the Eclipse Award.
Team Valor decided not to retire Animal Kingdom from racing or send him to stud. Surgery performed by Dr. Dean Richardson at the University of Pennsylvania's New Bolton Research Center at Kennett Square, proved successful and the colt was returned to training with the 2012 Dubai World Cup in March as his goal.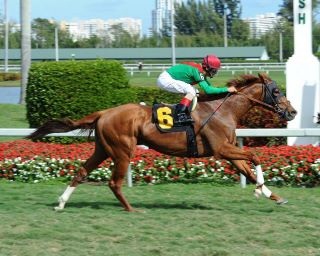 Animal Kingdom back to winning ways
To this end, Animal Kingdom resurfaced at Gulfstream Park in February of 2012 in an allowance race, in which he employed a powerful turn of foot to crush a modest field by 2 lengths and impress his connections, jockey and followers that a trip to Dubai could prove fruitful.
Fate, however, had an alternative career path in mind for AK and just days prior to the colt's anticipated departure to the United Arab Emirates for a role as the likely favorite in the $10-million World Cup, the colt went slightly lame and after considerable diagnostic effort had been made, a small stress fracture was discovered in his pelvis.
This second injury, which was not considered to be related to the first injury that took place at the start of the Belmont Stakes, did not require surgery. The 4-year-old was confined to his stall for 3 weeks, after which he was given some time off.
Once again, even though there was plenty of interest, Animal Kingdom was not sold or sent to stud. Once again, the World Cup was in the sights of the connections. But that was a long ways off.
Graham Motion came up with a plan. He told Barry Irwin that he wanted to run Animal Kingdom in the Breeders' Cup and had selected the Mile on turf as the best race on the card. He expected some resistance, but he did not get any from Irwin, who said "I thought it was unlikely that Animal Kingdom could be effective over so short a distance. I told Graham that it was not something I would rule out. I told him that I thought it was an odd choice, but I would support it. I could tell that he believed in it, so I went along with it. Every once in awhile there comes along a trainer that has a vision. I have had my own visions, so I know they can be valid. I was not about to put a road block in front of a talented horseman like Graham Motion."
So, without a prep race but rendered totally fit and race ready by a series of demanding uphill grass workouts at the Fair Hill training center's race course, Animal Kingdom was produced for the Breeders' Cup Mile at Santa Anita in November of 2012.
John Velazquez had ridden Animal Kingdom in the colt's last 4 outings, but JRV decided to pilot favored Wise Dan in the BC Mile, so Rafael Bejarano was selected to ride the Derby winner at Santa Anita.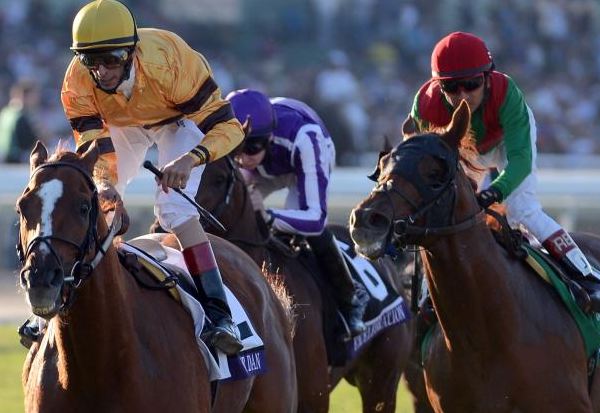 Fast-closing 2nd in Breeders' Cup Mile
Making his first start in 259 days and only his second start at age 4, Animal Kingdom was 10 to 1 in the Mile. The hulking chestnut stripped dead fit for the race, as usual encountered some traffic woes in the running and seemed hopelessly beaten with only one horse behind him as he entered the short homestretch.
Bejarano kept trying to find room, but Animal Kingdom was still sixth of 9 with less than a furlong remaining, as Wise Dan looked to be home free. Inside the final furlong, though, Bejarano managed to ride AK up the rail and finish with a tremendous amount of power and energy. They ran out of time, but flew up to finish second to the favorite, beaten only 1 ½ lengths.
Wise Dan ran a mile in a gaudy 1:31 3/5 to break the course record.
Animal Kingdom came away from the fray with an enhanced reputation and a new credential as a world class Miler, which is always handy for a budding stallion.
Interest in Animal Kingdom became frenzied among stallion owners after the Mile and it was apparent that AK had doubled in value by virtue of his Breeders' Cup performance. Barry Irwin found he could no longer keep suitors at bay, after one particularly aggressive stallion master from Australia acceded to all of Irwin's criteria and made a deal happen.
Irwin had requirement as follows: a) AK would race at 5; b) AK would campaign under the aegis of Team Valor; c) Team Valor would retain 25 percent; d) the buyer must own a top class international facility; and e) the buyer must have developed some successful international stallions.
John Messara fit the bill and bought a majority of the horse in late December of 2012.
Animal Kingdom, as he was a year earlier when a stress fracture set him back, once again was prepared by Graham Motion for the World Cup in Dubai. The $10-million prize money made it the most valuable Thoroughbred horse race in the history of the Sport of Kings.
Prepping for the World Cup at Gulfstream Park in the Grade 1 Gulfstream Turf Handicap, Animal Kingdom was ridden for the first time by Joel Rosario, who inexplicably and instinctively made a surprising early move on the backstretch that resulted in the horse getting beat by Point of Entry. Rosario turned Animal Kingdom from the hunter into the hunted by his ill-conceived enterprising tactics and it cost his mount the race.
For the World Cup on March 30, 2013, Rosaio was much better prepared. The leading American rider took full advantage of a wide draw to race away from any traffic troubles, track the pace and pick off rivals one by one, until around the far turn only the Champion American mare Royal Delta stood between him and the richest prize on earth.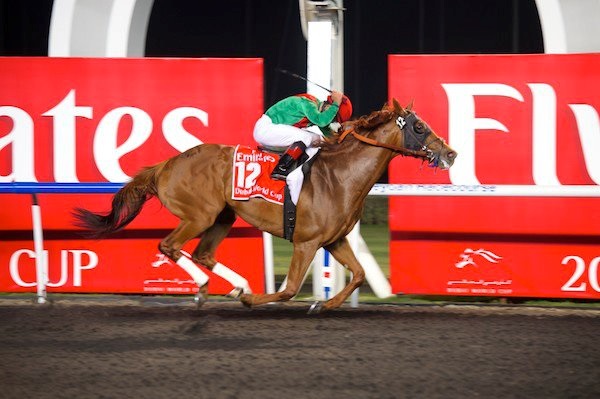 Animal Kingdom winning the Dubai World Cup
Animal Kingdom had been bet down to 2 to 1 favoritism by American horseplayers, but racing's cognoscenti favored Royal Delta, based on her better draw than Animal Kingdom and a sense that she was a mare of destiny.
With Animal Kingdom breathing down her neck while the Team Valor colorbearer was still under tight restraint, Royal Delta tamely faded away, with Animal Kingdom inheriting a clear lead before Rosario had even thought about asking the big red horse the ultimate question.
Once straightened out into the lane, Rosario simply pushed on Animal Kingdom once and the American Champion quickly opened up about a 6-length advantage. Red Cadeaux, the English-based Cup Horse, made a gallant late bid, but Animal Kingdom reached the wire more than 2 lengths clear, while being eased down approaching the wire and cruising down the lane with his ears pricked.
Animal Kingdom in 11 starts has finished worse than second only once, when he was struck into at the start of the Belmont stakes. His earnings of $8,399,884 make him the fourth richest American-based racehorse of all time. He followed Silver Charm as only the second horse to win both the Kentucky Derby (he beat Team Valor's Captain Bodgit by a head) and the Dubai World Cup.
In winning the World Cup, Animal Kingdom ended a long draught by becaming the first American horse to win that Classic or any other race run in Dubai on the Tapeta surface since the Emirates Racing Association installed the synthetic surface.
Visit the Video Library for ANIMAL KINGDOM

Copyright © 2001 - 2017 Team Valor International. All rights reserved.