BECRUX (Ity)
(2002 bay gelding, Glen Jordan-Rebecca Parisi, by Persian Heights)



| | |
| --- | --- |
| Won | Bell Woodbine Mile-Grade 1 |
| Won | Wickerr Handicap-Listed |
| Won | Wickerr Handicap-Listed |
| Won | Oceanside Stakes-Listed |
| Won | Premio Del Dado-Listed |
| 2nd | Play The King Stakes-Grade 2 |
| 2nd | Del Mar Breeders' Cup Handicap-Grade 2 |
| 3rd | Citation Handicap-Grade 1 |


Italian-bred BECRUX (pronounced BECK-rucks), was purchased by Barry Irwin of Team Valor following two impressive wins in Italy. He went on be named the Champion Juvenile Colt in Italy with 4 wins in 5 starts, including a stakes victory there.
Taken to Dubai next, Becrux won an allowance on dirt by nearly 7 lengths, but failed in two stakes attempts on the surface.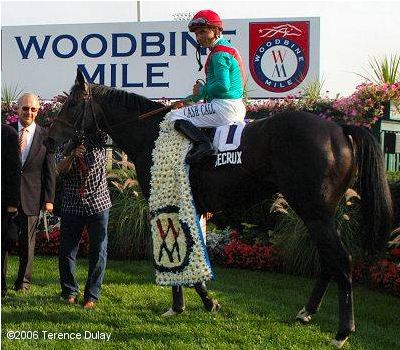 Becrux, after his win in G1 Woodbine Mile

So Becrux was imported to America and made his home-base Southern California, joining the barn of Neil Drysdale. His first California start came on opening day at Del Mar and yielded a win on the turf in the Oceanside Stakes. In his next start, he was beaten just 2 lengths in the Del Mar Derby. He finished off his three-year-old campaign with a third in the Bien Bien Stakes at Hollywood Park, and then was beaten by one length in the Sir Beaufort Stakes at Santa Anita.

His best season came at age four. He won a pair of allowance races, one at Hollywood, one at Santa Anita, then he won the Wickerr Handicap at Del Mar. At this point, Irwin set out a game plan to point Becrux for the Grade 1 Woodbine Mile in Canada. The plan included running Becrux in the Grade 2 Play The King Stakes at Toronto first, which would act as a prep race, allowing the horse an opportunity to experience a run over the course prior to running in the more important Woodbine Mile, three weeks later.

Becrux ran second in the Play The King, beaten only a half-length, but it was the perfect preparation. Three weeks later, he faced 12 other horses in the $1-million Grade 1 Woodbine Mile. Reunited with jockey Pat Valenzuela who was returning to the saddle after 60 days of not riding due to back pain, Becrux flew from far back and was engaged by Rebel Rebel in a memorable and very tight finish. Becrux refused to let the other horse pass him and prevailed by a neck.

The following year, Becrux repeated a win in the Wickerr Handicap, and placed in the Graded Del Mar handicap and Morvich Stakes. He also made a trip to Japan to compete in the Grade 1 Mile Championship, but could only manage 8th place in a large field of 18 runners, although he was less than 5 lengths behind the winner at the wire.

At the age of six, he raced five times, winning an allowance race and placing in the Grade 1 Citation handicap at Hollywood Park. At age seven, although continuing to finish close-up in most of his starts, he did not visit the winner's circle. At age eight, he made one start in a Santa Anita claiming race at the insistence of one of the co-owners, finishing third, and was retired on the spot by Irwin.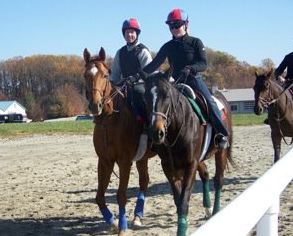 Becrux, in his new role as stable pony, escorts
Kentucky Derby winner Animal Kingdom to track

Team Valor makes every attempt to place its retired racehorses into responsible hands. In the past, it has been very discouraging to learn of a former stable runner being maltreated, having been passed from one owner to another. Irwin was adamant that Becrux would never become another statistic, or meet a fate like that of Ferdinand or Exceller who ended their days in a slaughterhouse.

Becrux was shipped to Kentucky and allowed to live in a paddock at a local breeding farm for several months before being retrained for his new career. Becrux continues to work for Team Valor in the important role of "stable pony" at Team Valor's private training barn at Fair Hill, Maryland. He escorts racehorses (including Kentucky Derby winner Animal Kingdom, at right) to and from the training track, keeping them calm and focused, and always ready to sprint into action to catch a loose horse, should the need arise. He stays fit and active and seems to love his career and new surroundings. And Barry Irwin and his clients are happy also knowing that Becrux will be well cared-for and loved for the remainder of his life.




Visit the Video Library for BECRUX





Copyright © 2001 - 2016 Team Valor International. All rights reserved.