GITANO HERNANDO (Gb)
(2006 chestnut colt, Hernando - Gino's Spirits, by Perugino)



| | |
| --- | --- |
| Won | Goodwood Breeders' Cup S.-Grade 1 (Santa Anita) |
| Won | Singapore International Cup-Grade 1 (Singapore) |
| Won | Diamond Stakes-Grade 3 (Ireland) |
| Won | Winter Derby Trial-Listed (England) |
| 2nd | Dee Stakes-Grade 3 (England) |
| 3rd | Al Maktoum Challenge Round 3-Grade 2 (Dubai) |


Gitano Hernando was bought by Team Valor International's Barry Irwin following a promising maiden victory by 4 ½ lengths in a synthetic track race at minor league Wolverhampton racecourse in England.
"I liked the rhythm he established and I particularly like the beautiful action he was able to display on a track that makes that sort of athletic display difficult to achieve," said Irwin. It was the colt's third start, following a pair of grass races. "
Irwin spent nearly two months trying to complete a deal to buy the son of Hernando and his relentlessness paid off in the end. "When I want something really badly, I don't let go too easily," he laughed. "I used to own his fourth dam, Hanina, a big stamp of a mare, probably the best looking I ever owned. She was the dam of Mrs McArdy, winner of the One Thousand Guineas at Newmarket."
When Team Valor syndicated the colt, it was with a game plan of trying to win the Classic Belmont Stakes with him. With young Italian-born, Newmarket-based Marco Botti at the helm, Gitano Hernando was aimed at the Dee Stakes, a race Irwin had used with Team Valor's first acquisition My Memoirs, who came off a Dee win to run second in the Belmont to Horse of the Year A. P. Indy.
Gitano Hernando in the Dee Stakes

Trying to bring a fit, yet fresh horse to New York for the third leg of the Triple Crown, Irwin had Gitano Hernando prepped for the Dee 5 weeks beforehand in an allowance race going a mile and a quarter on turf at Doncaster, where he proved a decisive 2 ½-length winner.

In the Dee itself, which is run on a circular, American-like course at Chester race course, Gitano Hernando encountered a considerable amount of traffic trouble, checking repeatedly, shaking loose in the final furlong and missing by a nose in a top effort. Unfortunately, the ground at Chester that afternoon was abominable, with many horses failing to finish and quite a number become injured.

Gitano Hernando jarred an ankle, had to back off of his training and he missed the Belmont Stakes, in what proved to be a great disappointment for Team Valor and its racing partners, among them Hollywood motion picture producer Gary Barber.

Plan B was a trip to California for the Oak Tree meeting, where Botti contemplated two races for the sophomore—one on turf and one on synthetic. The turf was a Grade 2 and considered the easier of the pair, while the synthetic race was the Grade 1 Goodwood Stakes and was the hotter contest. Botti pressed for the grass race, but was overruled by Barry Irwin, who said "On turf he is a nice horse, perhaps a Grade 3 or even Grade 2, but on synthetics, he could be top class."

In his prep for the California races, Gitano Hernando raced on a synthetic track at Wolverhampton, where he had broken his maiden. This time, for the first time, the colt showed a wicked turn of foot, bursting to the front in the lane, winning by 2 lengths over the mile and a sixteenth distance and breaking the course record.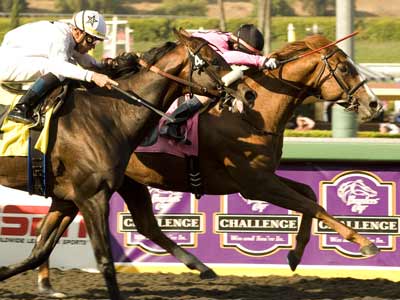 Gitano Hernando won the G1 Goodwood Stakes
in partner Gary Barber's pink silks

Gitano Hernando handled the travel from England to California in fine condition. In the $300,000 Grade 1 fixture, Kieren Fallon was always in trouble, but he had a lot of confidence in his mount and he produced him at just the correct moment deep in the homestretch and the big chestnut gave him his all, winning the Goodwood by a neck over the Grade 1 winner Colonel John and Grade 1 winner Richard's Kid. He was an 18 to 1 longshot for the Santa Anita race, in which he beat older runners.

After the race, Fallon said "I have never been on a horse that did what this one did today. He was plenty tired at the eighth pole, but he swelled up, dug in and he simply would not let that other horse get by him. He is a better horse than Dylan Thomas."

Irwin and Barber had many options going forward, including the Breeders' Cup Turf and Breeders' Cup Classic, but they returned the Grade 1 winner to England, where Botti was tasked with the goal of preparing the colt in England over the winter for the World Cup in Dubai.

One month prior to the World Cup, Gitano Hernando was produced for the Winter Derby, a Listed event going a mile and a quarter on Polytrack. The colt was absolutely brilliant, winning by 4 ½ lengths and being talked about as the possible favorite for the $6-million fixture in the desert.

In the Dubai World Cup, Gitano Hernando broke like a shot and was forwardly placed the instant the gates opened, but for reasons nobody to this day comprehends, his rider buried him, saved ground throughout and was never able to land a blow while mired down in traffic. He finished a tame sixth, beaten 2 ¾ lengths in a puzzling performance by rider and horse.

Botti gave the colt a nice rest upon his return to Newmarket, where the chestnut was cranked up for a fall campaign, that began in Ireland on the Polytrack at Dundalk, where Gitano Hernando proved a cheeky winner of the Group 3 Diamond Stakes.

So easily did the Hernando colt win the Diamond that Botti brought him back two weeks later for the Group 1 Champion Stakes at Newmarket. Gitano Hernando ran well, but he could not dent the board, finishing a good fourth, beaten 3 ¼ lengths on grass to his old rival Twice Over.

Gitano Hernando ran a few more times for Team Valor and was sold to a new owner, for whom he subsequently won the $3-million Singapore Gold Cup.

Visit the Video Library for GITANO HERNANDO





Copyright © 2001 - 2017 Team Valor International. All rights reserved.