IPI TOMBE (Zim)
(1998 bay filly, Manshood-Carnet de Danse, by Dance in Time)

Horse of the Year in Dubai, Champion 3yo Filly in South Africa



| | |
| --- | --- |
| Won | Dubai Duty Free S.-Grade 1 |
| Won | Durban July Cup-Grade1 |
| Won | South Africa Fillies Guineas-Grade 1 |
| Won | South Africa Fillies Classic-Grade 2 |
| Won | Woolavington S.-Grade 2 |
| Won | Locust Grove H.-Grade 3 |
| Won | Jebel Hatta S.-Grade 3 |
| Won | Al Fahidi Fort S.-Listed |
| 2nd | Triple Tiara S.-Grade 2 |


Bred in Zimbabwe, Ipi Tombe has given breeders around the world cause to reconsider their notions about where a good horse can be found. In her homeland, she was the best representative of her sire, Manshood, an unraced, but royally-bred son of Mr. Prospector and Indian Skimmer. Quite successful as a Zimbabwean juvenile, Ipi Tombe moved on to South Africa for her three-year-old campaign.
In her new surroundings, she was partnered with trainer Michael de Kock, whom most may remember prior to this as the trainer of Horse Chestnut. Admittedly not quite fit enough from her travel, she landed 2nd by a half-length in her South African debut, with de Kock proclaiming she was far better than seen that day. His words were prophetic, as Ipi Tombe never lost a race afterward.
Always seeking better competition, Ipi Tombe ventured out of her gender-restricted races, and faced older males in South Africa's most prestigious race, the Durban July Cup. Blocked for much of the running, she finally got clear and forged ahead to a highly popular victory.
Purchased by Team Valor and WinStar Farm after that race, de Kock took Ipi Tombe to Dubai for the winter. After a short rest, she rattled off an amazing trio of victories against some of the world's finest horses, while giving weight, and setting new time records. Her unbelievable comeback from trouble in the Dubai Duty Free Stakes was nothing short of miraculous. A national heroine in Dubai, she returned to the winner's circle to the rhythmical chanting of her name.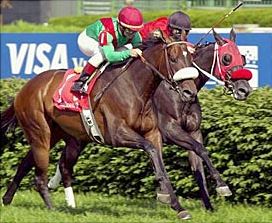 G3 Locust Grove at Churchill Downs

Transfered to America, and to trainer Elliott Walden, Ipi Tombe became an instant media sensation. The Grade 3 Locust Grove at Churchill marked her American debut, and she caused a collective gasp in the crowd when she literally walked out of the starting gate. Yet, while giving away 7 to 11 pounds to each of her rivals, she proved to be a model of consistency. Jockey Pat Day shut her down after making the lead, and she coasted in without breaking a sweat.

Ipi Tombe retired with an impressive record of 12 wins and 2 seconds from 14 starts and earnings of 1,529,799. She was bred to leading European sire Sadler's Wells and sold at the November Tattersalls Auction in Newmarket for the equivalent of US $1,659,514.




Visit the Video Library for IPI TOMBE





Copyright © 2001 - 2017 Team Valor International. All rights reserved.