MARTIAL LAW
(1985 brown colt, Mr. Leader - Sateen, by Round Table)



| | |
| --- | --- |
| Won | Santa Anita Handicap-Grade 1 |
Martial Law was bought for about $60,000 at public auction towards the end the 1988 racing season when he was 3 in England by Andy Smith, a bloodstock agent with whom Barry Irwin had several dealings during the 1980s and 1990s.
Irwin was only mildly interested at first because he knew the colt's dam Sateen. Irwin and his partner in Clover Racing Stable, Jeff Siegel, cut their teeth on rejects bought from famed Claiborne Farm near Paris, Kentucky. Sateen was a minor stakes winner in California—nothing out of the ordinary—but Irwin knew her dam, Satin, very well, because when he did a short stint as an apprentice to a bloodstock agent in California, the company's owner had bought and managed Satin.
Somewhat a Claiborne reject in her own right, Satin was brilliantly fast. She was better over 5 furlongs than 6 and possessed blazing speed. More importantly, she hailed from the famous family of tap root matron Colosseum, from whom the Hancock Family of Claiborne had produced Satin's dam Lea Moon and that one's dam Lea Lark. Both of these mares were only stakes-placed, but they were gems as producers, the latter having foaled the Champion juvenile filly Leallah and the former having produced major stakes winners Duel and Monitor.
After analyzing the sire and dam of Martial Law, Irwin and Siegel realized that the colt should never have been sent abroad to race on grass, because he was bred top and bottom to be a dirt performer. Mr. Leader, sire of Martial Law, was a major stakes winner on the grass, but he was a dud as a sire of grass runners. All of the form of Sateen, Satin, Lea Moon and Lea Lark was on the dirt as well.
So Clover gave a profit to Andy Smith, bought Martial Law and syndicated him for $100,000 on the promise that he would adapt to dirt racing. In half a dozen grass starts, Martial Law had managed to eek out a couple of sprint wins in modest handicap company in England.
A medium-sized, light-bodied and nondescript colt, Martial Law was on the feminine side, but his trainer Julio Canani realized the first time he breezed the colt on the dirt, when he went 3 furlongs, that Martial Law had found a home on the dirt.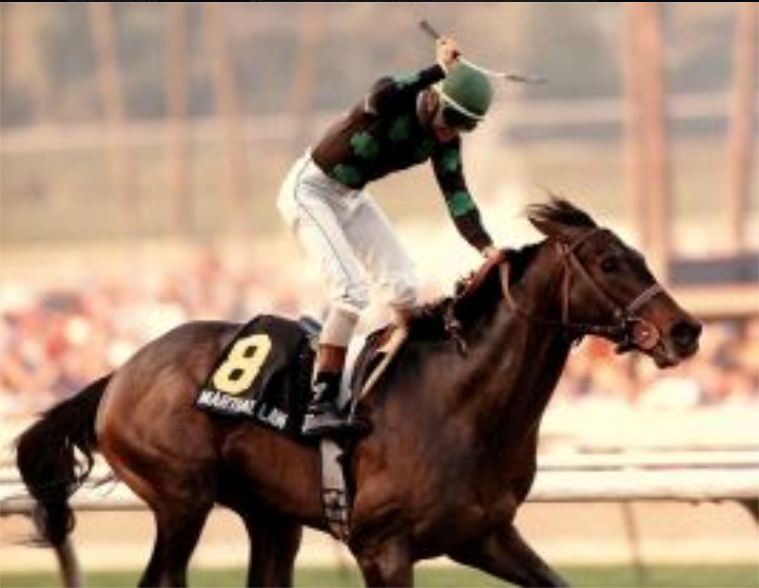 Martial Law won 5 races in a short career

Martial Law trained very well for his debut. Although Canani understood that the colt would eventually prefer route races, he wisely suggested a sprint first, just to get the colt used to the faster pace he would find in California as compared with English races. Martial Law was outrun early, but finished in a rally and exhilarated his 17 owners, who cared not one whit that he was beaten nearly 6 lengths, because they had been told to expect massive improvement second time out.

In his next outing, an allowance race going a mile and a sixteenth, the Santa Anita track was very muddy, which played right into the wheelhouse of Martial Law, who could not have possessed better lineage for the mud, as he had Mr. Leader in his sire line and he was out of a mare by Round Table.

Martial Law roared down the homestretch like a quality animal, reporting home 6 lengths to the good and causing his professional managers and trainer to consider loftier goals. A mere 23 days away on the winter calendar was the famed Santa Anita Handicap, the $1-million race known affectionately as The Big 'Cap.

At first neither Irwin, Siegel nor Canani wanted to verbalize that they thought the colt had a chance, because he figured to be such a longshot for The Big 'Cap. Not only that, it would take $40,000 to supplement and enter Martial Law in the race because he was not eligible.

In the weeks leading up to the 10-furlong race, Martial Law did nothing to discourage the managers and trainer from continue to fantasize about racing their hundred-grand horse in the million-dollar race, even if the entry tab equated to 40 percent of his original value just a couple of months before.

Nobody knew if he had the quality or the genes to get a mile and a quarter in top company, because the first two dams were dyed-in-the-wood sprinters. But there was something undeniably special about the racy colt.

With less than 10 minutes remaining before the connections had to notify the racing secretary if they wished to put up the $40,000, Irwin phoned Siegel in the press box, where he was trying to nail down Canani. The trainer would not be pinned down, because he feared he would look foolish starting such an inexperienced runner in The Big 'Cap and advising his owners to put up the $40,000.

Siegel said he could not get Canani to answer him. Irwin asked his partner to put Canani on the phone. Canani said "You wanna run?" Irwin said "Yes, we do." Canani then said "OK, then we run!"

Martial Law was 50 to 1 on the tote board. Members of the media teased Irwin and Siegel on race day and talked behind their backs, accusing them of running the horse just so they could have a runner in The Big 'Cap. Irwin and Siegel were insulted because neither of them would run a horse they did not believe in. Besides, both of them were high on Martial Law and expected a huge performance, regardless of the public's opinion of him.

Turning for home, Martial Law was third and once in the lane he forged to the lead and drew off to score by nearly 2 lengths for a decisive victory in the $1-million contest. His time of 1:58 4/5 has been bettered only by Affirmed, the last American Triple Crown winner who ran a fifth of a second faster. The race has been renewed since 1935 and many a famous horse has taken the winter handicap Classic, including Spectacular Bid, Seabiscuit, Round Table, Ack Ack and John Henry (twice), but none of them ran faster than Martial Law.

Martial Law returned $103.60 for every $2 bet on him.

The Big 'Cap hero ran only once more when he experienced a very rough trip at Oaklawn Park, where he finished 6th of 8 beaten about 5 lengths. The colt was found to have bowed a tendon upon his return to Southern California and he never raced again.

Barry Irwin said "He was a shooting star—here today, gone tomorrow. How good was he? I don't know. But the evidence suggests that if he had started out in America and been trained to run on dirt, he might have been one of the all-time greats. He showed as much talent in The Big' Cap and in his spectacular workouts as any horse we've ever owned."







Copyright © 2001 - 2017 Team Valor International. All rights reserved.