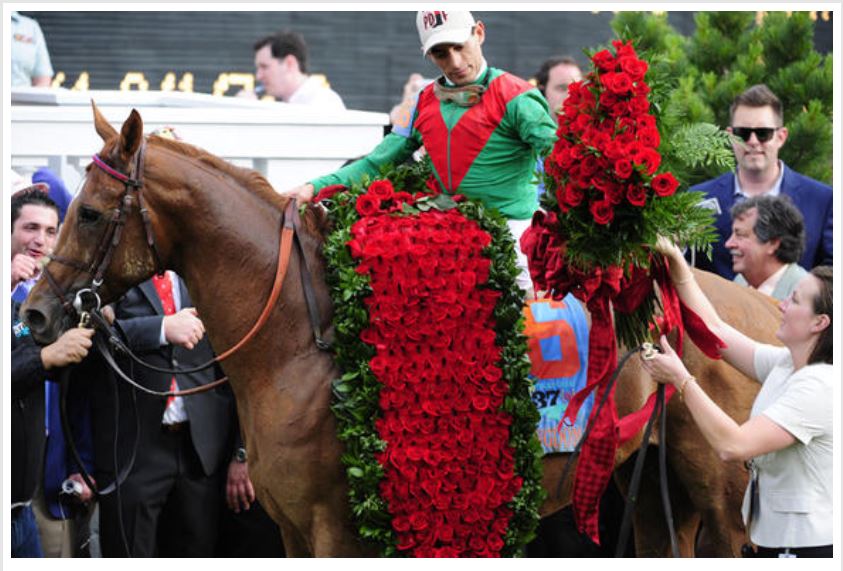 Click this image and relive Team Valor partners'
excitement as Animal Kingdom wins the Kentucky Derby!


Now that you have perused the information available on Team Valor's website and are interested in getting started, you might ask "What is the next step?"

Start by watching this 3-minute video


We invite you to contact Team Valor by email: Barry@TeamValor.com

Your choices are as follows:
Specific Package on a Horse

Request an information package of a specific horse being offered by Team Valor.
E-Mail Offering List
Ask to be placed on a special list to receive an e-mail every time a new racehorse is offered by Team Valor.
Speak with Barry Irwin
Ask to speak directly with Barry Irwin, president of Team Valor, by phone at 859-621-8186 or you may email Barry@TeamValor.com .
References from an Investor
Ask to be provided with the phone number(s) of a current Team Valor participant(s) in order to question him about his experience with the stable.
Review the Team Valor Marketing Pledge
The Team Valor Marketing Pledge is our promise to those considering joining a Team Valor partnership and what you can expect from us in the days ahead as you contemplate entering the world of racehorse ownership.
Compare Team Valor International with Other Horse Racing Syndicates
Take a few minutes to compare Team Valor International with other horse racing partnerships. You can use OwnerView.com to compare statistics and accomplishments. Also check out each Syndicate's Stakes Record for the last decade at this link.
---

Q: Do you charge a management fee?
A: No. We used to, but we dropped it.
Q: How is Team Valor compensated?
A: Team Valor is compensated in three ways: a) it marks up a horse prior to syndication; b) it receives 10 percent of profits upon conclusion of the investment and c) it gets a 5 percent sales commission when a horse is sold. Profits are defined as the difference between all monies in vs. all monies out.
Q: Does Team Valor deduct any of the purse earnings for its own account?
A: No. Some stables do this. We never have, never will.
Q: Do you maintain an equity interest in any of your horses?
A: Yes, every one of them. Some are minor, some are medium, some are significant.
Q: Do you try to show a profit in your racing ventures?
A: The goal of Team Valor is for its racing partners to experience the joy and satisfaction derived in developing young horses and to sell all or part of them for a profit.
Q: How are expenses for training, etc. handled?
A: Team Valor bills actuals in arrears bi-monthly.
Q: How are earnings distributed?
A: Purses are paid within 7 days of receipt of funds from a racetrack. Within a week, owners of a winning horse receive a package containing a disbursement check, a video tape of the race, winners' circle photographs and press clippings if any.
Q: How often are LLCs formed?
A: Partnerships are formed on a regular basis throughout the year.
Q: How many LLCs does Team Valor form in a year?
A: Around 10 a year.
Q: What is the cost of a Team Valor racehorse?
A: Between $120,000 and $2,000,000.
Q: How many members are in each LLC?
A: Usually between 6 and a dozen, from virtually every state in the country.
Q: In what dollar increments are investments made in a partnership?
A: From a low of $7,500, with a median of $15,000 and as high as $100,000 or $150,000.
Q: Is it wise to put a lump sum in one horse, or spread it around?
A: We always suggest diversification as a means of reducing risk. It is better to participate at a smaller level on three horses than to take a larger part of one.
Q: Do you sell packages or groups of horses?
A: We have very high and demanding standards. We have difficulty finding horses to buy on a one-by-one basis, let alone in groups.
Q: What types of horses do you buy?
A: Team Valor has enjoyed its most success in buying young horses after they have raced a time or two, although we did breed Animal Kingdom and occasionally have hit pay dirt with a 3-year-old at the end of the season as with $60,000 buy Martial Law before he won the $1-million Santa Anita Handicap.
Q: Do you ever form partnerships with horses that Team Valor has bred?
A: Very occasionally, as Team Valor has for all practical purposes gotten out of the breeding business.
Q: Do you buy 2-year-olds at the in-training public auctions?
A: Rarely. We stopped doing that in North America in 2006, but in 2019 Team Valor did buy a colt it named Gouverneur Morris at the Fasig-Tipton sale at Gulfstream Park.
Q: Are you buying more yearlings nowadays?
A: No. Team Valor is strictly buying raced horses. It may dip an occasional toe in a European juvenile sale if the right animal pops up.
Q: When you offer a horse for sale, what time constraints are involved?
A: Once a horse passes our "due diligence" of scrutiny and is bought, it generally sells very quickly. Potential partners are always advised to be prepared to commit soon after a review of our package, documentation and video of the horse. Since Captain Bodgit was syndicated in 1997 in 24 hours, most of our popular young horses sell out in a day or two. A wide-margin winning debutante at 2 can sell out in a matter of a couple of hours. Newcomers have to be prepared to respond fast.
Q: How do potential investors find out if a horse is being offered?
A: Team Valor maintains a list of prospective partners and e-mails them a heads-up 24 hours before a new horse is offered and follows up with the offering the next day.
Q: How many new investors generally participate in each LLC?
A: Usually there are only a couple, because our regular clients react quicker than the prospective clients, who as a rule are not in the habit of responding as quickly as is required.
Q: Is it safer to buy a filly vs. a colt?
A: The difference between buying a filly vs. a colt is one of risk vs. reward. Fillies are generally a safer investment because they can have residual value as a broodmare. But the upside of a filly is restricted. A colt is riskier because if it is unable to realize its potential on the track, it has much less value than a comparable filly. However, the potential reward in owning a colt that becomes successful is many times greater than that of a filly.
Q: What about tax reporting?
A: K-1 forms for each individual LLC and member are supplied prior to March 1 in each calendar year.
Q: Are the horses insured?
A: Team Valor insures its horses but partners have the option of declining they desire. The only type of insurance offered is mortality insurance. Insurance rates on the whole are about 50 percent cheaper in Europe versus North America. The Racing Manager maintains a liability policy in the amount of $3 million.
Q: Why the Limited Liability Company format instead of a General or Limited Partnership?
A: An LLC limits the liability of the members in case of a lawsuit solely to the assets of the partnership, so that its members are not personally liable or at risk.
Q: Where do your horses race?
A: Team Valor bases its European stock in England, Ireland and France. Horses are spread out in different locales depending on which trainer has the athlete. Unlike in North America, no horses abroad are stabled or trained at a racecourse. There are large public training centers in each country: England has Newmarket and Lambourn; Ireland has The Curragh; and France has Chantilly and Maisons-Laffitte near Paris, as well as other training centers in the South of France where racing takes place in the Provinces. Just as many trainers maintain their own private training facility.
Q: Where do the majority of your partners reside?
A: Our partners are spread across the width and breadth of the United States and some foreign nations. The New York/New Jersey corridor, Chicago and surrounding suburbs; and Southern California historically have been the largest areas where our partners have resides. However, we have partners who live in Florida, Maryland, North Carolina, Pennsylvania, Rhode Island, Missouri, Louisiana, Arkansas, Hawaii, Arizona, Oregon, Washington, Connecticut, Kentucky, Ohio, Oklahoma, Texas, Colorado, Indiana, Tennessee, Delaware, Michigan, Wisconsin, Nevada, Massachusetts, New Hampshire, Kansas, Utah, Virginia, Minnesota, as well as Japan, Brazil, Uruguay, Italy, Switzerland, Hong Kong, Australia, the United Arab Emirates, Singapore, South Korea, South Africa, Zimbabwe, England, Ireland, Scotland and Canada.
Q: How are the partnerships concluded?
A: Team Valor sells its racing stock while they are still racing as they are more saleable while they still have racing life. Fillies are sold in their entirety. Colts are either sold outright or interests are sold in them to solidify gains.
Q: Can an investor extricate himself/herself from a partnership before it is concluded?
A: Because Team Valor offers no secondary market, an LLC member interested in selling a partnership interest must find his or her own buyer. Prospective participants should be prepared to be involved for the life of the investment.
Q: How much does it cost to train a horse with Team Valor?
A: When all is said and done, it costs about $64,000 annually to have a horse in training with our stable in the United States. These costs are much lower in Europe, with the average for our trainers as follows: England $42,000, France $42,000 and Ireland $36,000. All of the costs incurred by our horses are "passed through" directly to our owners--nothing extra is added on. The figure cited includes all training, normal veterinary work, blacksmith and vanning. If a horse runs in stakes races, additional costs are incurred for nominations and entry fees. These fees do not include account or tax prep charges.
Q: Do investors have any input as to the campaigning of a racehorse?
A: Those who participate in a racing venture do so because they are interested in benefiting from the expertise of Team Valor, not of the other members.
Q: Do partners have a say-so in determining anything?
A: Yes, partners vote on important issues regarding the expenditure of extraordinary sums of capital, as well as when a venture should be terminated.
Q: Has Team Valor raced in partnership with any prominent members of the Thoroughbred industry?
A: We have raced stakes winners with Gary Barber (Spyglass Entertainment), Robert Clay (Three Chimneys Farm), Bill Casner and Kenny Troutt (WinStar Farm), Will Farish of Lane's End Farm, Antony Beck of Gainesway Farm, Gaynor Rupert of Drakenstein Stud in South Africa, Richard Santulli (NetJets), Margaux Farm, Bill and Corrine Heiligbrodt, Denali Stud, Green Lantern Stable (Richard and Sue Ann Masson), Henry Mast, Barbara Lacroix of Meadowbrook Farm, NeverTell Farm, Carl Pascarella (inaugurated Visa Triple Crown bonus), Dr. Chuck and Dr. Nancy Kidder of Corner Woods Farm, James L. Mamakos, Peter and Eloise Canzone, Brandon Perry and John Stephens (Vision Racing), Syd Belzberg, Dave Munro of Highfield Stock Farm in Canada, John Henderson; stakes horses with Taylor Made Farm and Ian Balding (England); and raced other horses internationally with Sheik Mohammed bin Rashid al Kamtoum (Godolphin), John Messara (Arrowfield Stud), Martyn Meade (Manton Estate), Anton Doerner (France), Larry Young (Australia), Hassen Adams (South Africa), Larry Nestadt (South Africa), Anant and Vanshree Singh (South Africa), Scuderia Siba (Italy), Juan van Heerden (South Africa), Robert Bloomberg (South Africa), Greg Blank (South Africa), etc.
Q: Is it true that half the horses raced by the stable are stakes horses?
A: One in every two starters for the stable earns black-type in a stakes race. This has been the case for more than 32 years. Also 25 percent of all of the stable's runners have won stakes races.
Q: How do you keep partners informed?
A: Former Daily Racing Form columnist Barry Irwin twice weekly writes the Insider's Bulletin, a private memorandum accessible only to Team Valor investors, which is e-mailed directly to racing partners. Letters updating horses' activities and plans are regularly e-mailed to partners by Barry Irwin. Our ability to communicate with our partners is the envy of the industry.
---
RETURN TO TOP OF PAGE